Today a wondrous new (to me) toy arrived from the far off land of Ebay: A Fujitsu Stylistic LT C-500 tablet. Some of the very finest technology 2001 had to offer, the little computer has a 500 Mhz Celeron processor, 256 MB of RAM, a 15 GB hard drive, and a 800×600 TFT outdoor viewable passive touch screen. It is the outdoor viewable screen that interested me, I wanted a small computer for reading news/email/etc on my patio.
After making sure the hardware all worked in the Windows 2000 Pro install that came on it, I yanked out the hard drive (easily removable through a panel on the back of the unit) and installed an old 6.5 GB hard drive I had around with Ubuntu 7.10 already installed on it. After quickly installing the fpit driver for the touch screen and a ZyXEL G-102 PCMCIA 802.11g card (the LT C-500 does not have built in Wifi), I was able to browse the web with a reasonable amount of speed in Firefox. The install still needs to be tweaked to improve performance and possibly use Matchbox as the window manager instead of GNOME, but I was surprised at how easy it was to get a usable system going.
What works:
Touchscreen, with fpit driver
Hibernate
Suspend
IR keyboard (it just behaves like a normal keyboard)
Hot pads (controls brightness, volume, etc, and also have buttons for arrows, numbers, etc. These just behave like normal keys)
Audio
What still needs work:
On-screen keyboard in GNOME
A stand for it, that isn't the mini dock (thinking maybe a book stand)
Power savings features for CPU (if they even exist)
Here is a picture of the tablet running linux: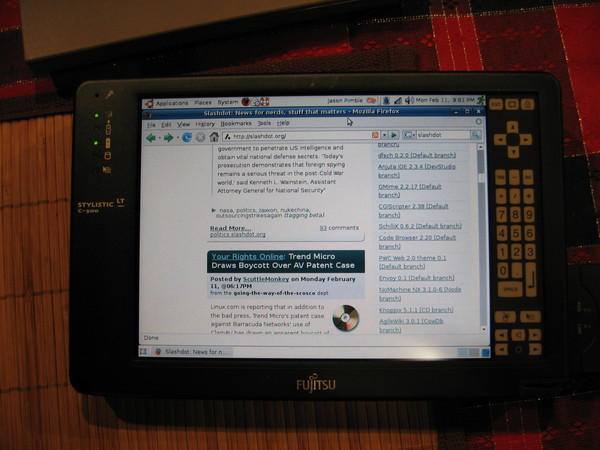 And here is a picture of it with some other computers I had lying around, for scale: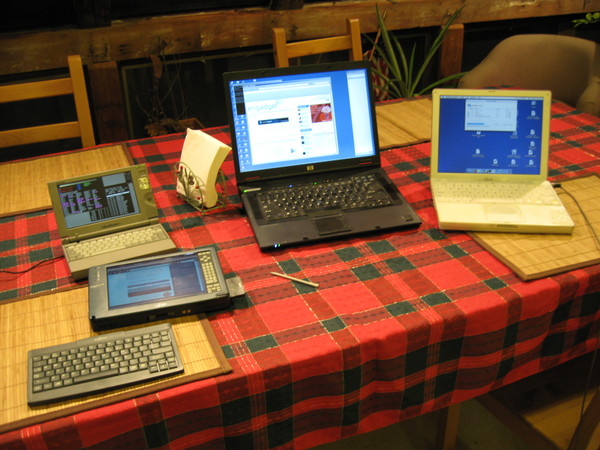 (computers are a Toshiba Libretto 100CT, Fujitsu Stylistic LT C-500 (with IR keyboard), HP nw8440, and an Apple iBook G3 500 ("Dual USB")).